Professional Locksmith Manchester – Get Fast Assistance Now!
Professional Locksmith Manchester - Get Fast Assistance Now!
Have you ever been locked out of your home, office, or car? If so, you know how frustrating and time-consuming it can be to deal with such a situation. In a bustling city like Manchester, having access to a reliable and professional locksmith service, like Locksmith Manchester, can make all the difference. But with so many options available, how do you choose the right one? This comprehensive guide will walk you through the various locksmith services in Manchester and help you make an informed decision. Get ready to discover the benefits of timely assistance, expert knowledge, and top-notch customer service provided by Locksmith Manchester.
Key Takeaways
Lockout Pirates Manchester Locksmith Solutions provides 24/7 professional locksmith services for residential, commercial and automotive needs.

Emergency assistance is available to provide fast response times in vulnerable situations.

Choose a reputable service provider that offers local services, transparent pricing and secure payment options.
Manchester Locksmith Solutions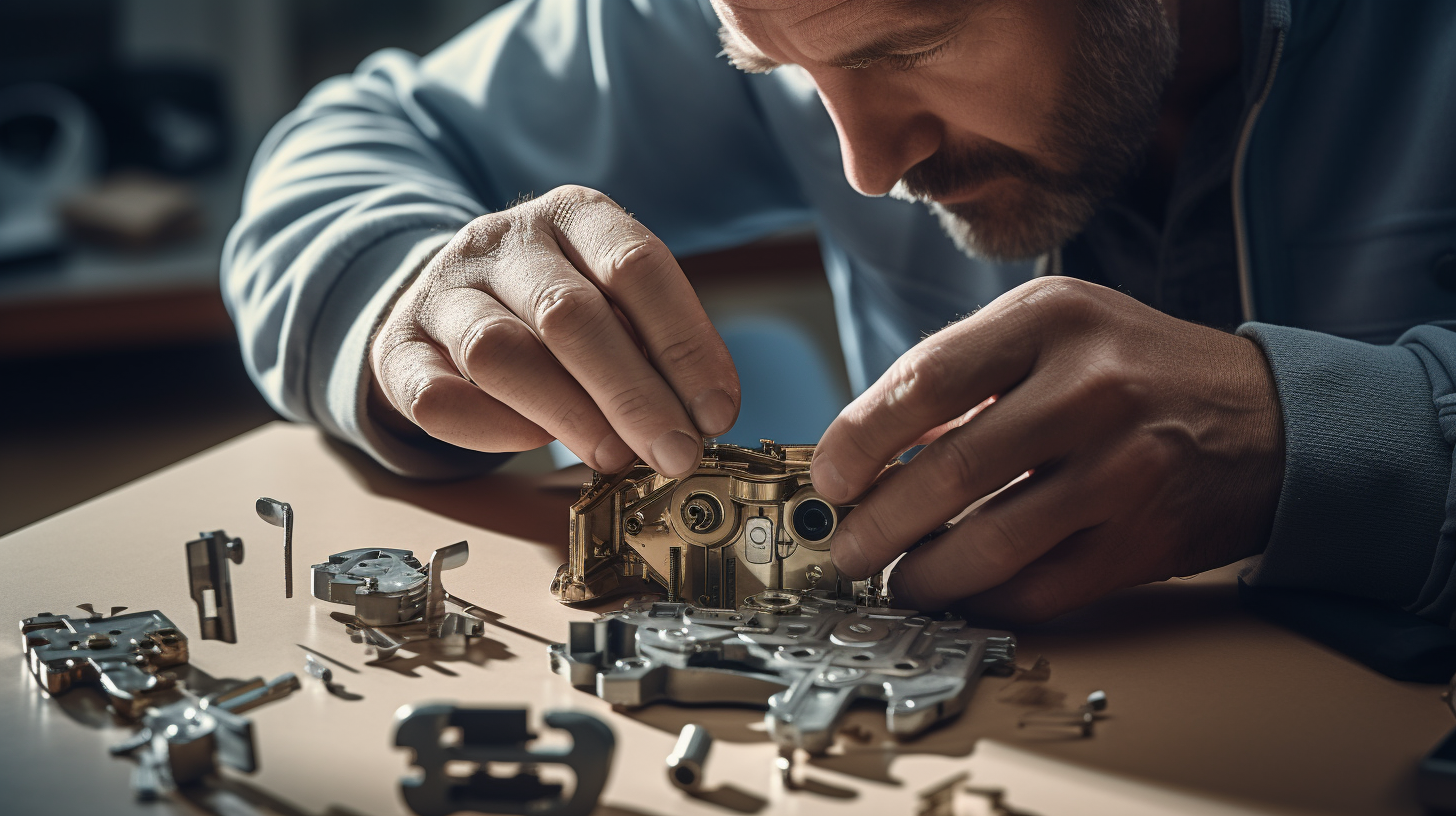 In Manchester, locksmith services cater to a wide range of needs, ensuring that all your lock and security requirements are met. From residential to commercial and automotive assistance, professional locksmiths in Manchester are equipped to handle any lock-related issue.
With skilled locksmiths available around the clock, you can rest assured that our emergency locksmith service is just a phone call away.
Residential Locksmith Services
Your home should be your sanctuary, a place where you feel safe and secure. Having robust and reliable locks on all your doors and windows is crucial for your safety. Residential locksmith services in Manchester specialize in lock repairs, replacements, and upgrades for homes. These services focus on mortice locks and other security solutions that ensure the safety and security of your property.
Local locksmiths in Manchester are at your service, offering a range of services including:
Lock change

New lock installation

Assistance with lockout situations

Garage door locks

Yale locks

Wooden door security upgrades
With their vast experience, they can provide you with the best locksmith service at an affordable price, ensuring your home remains well-protected against break-ins.
In addition to their expertise in door lock solutions, Manchester locksmiths also offer window lock repairs. This is especially important for UPVC windows, which can become vulnerable due to wear and tear or extreme weather conditions. Working with a skilled locksmith ensures that your windows are secure and function correctly, keeping your home safe from potential intruders.
Commercial Locksmith Services
Securing your commercial property is one of the challenges that come with running a business. Commercial locksmith services in Manchester cater to businesses, providing lock solutions that minimize disruptions and maintain a secure working environment. Some of the services offered by commercial locksmiths include:
Lock installations

Emergency lockout assistance

Key duplication and replacement

Master key systems

Access control systems

Security assessments and consultations
These professional locksmith service providers are well-versed in the unique security needs of commercial establishments and can provide tailored solutions to meet your specific requirements.
Skilled locksmiths in Manchester understand the importance of protecting your business assets and keeping your employees safe. They work with a variety of commercial locks, including mortice locks, garage door locks, and door bolts, to provide the best security solutions for your business. With their expertise in mortice lock installation and state-of-the-art tools, they can quickly and efficiently address any lock-related issues your business may face.
For your business's security and success, choosing a reliable commercial locksmith in Manchester is key. Before hiring, it's important to verify the locksmith's experience, qualifications, and reputation. By working with a trusted Manchester locksmith, you can ensure that your business is well-protected and that any lock-related emergencies are promptly resolved.
Automotive Locksmith Services
We've all been there – stranded in a parking lot or on the side of the road, locked out of our car. It's a stressful situation that can quickly ruin your day. Luckily, automotive locksmith services in Manchester are here to help. With their expertise in car lockouts, key replacements, and ignition repairs, they can get you back on the road in no time.
Providing the make and model of your car is necessary when you find yourself in need of an automotive locksmith. This information allows the locksmith to arrive with the necessary tools and parts to resolve your issue quickly and efficiently. Lockforce Locksmiths Manchester, for example, guarantees rapid and effective service, ensuring all work is of the highest quality.
In addition to assisting with car lockouts, automotive locksmiths in Manchester can also help with key replacements. Whether you've lost your keys or need a spare set, these professionals have the tools and expertise to create new keys for your vehicle. This service can be a lifesaver, especially if you're in a hurry or far from home.
Finally, ignition repairs are another crucial service provided by automotive locksmiths in Manchester. If your car's ignition is malfunctioning, it can be both inconvenient and dangerous. By working with a skilled locksmith, you can have your ignition repaired or replaced, ensuring your vehicle's safe and reliable operation.
Emergency Locksmith Support in Manchester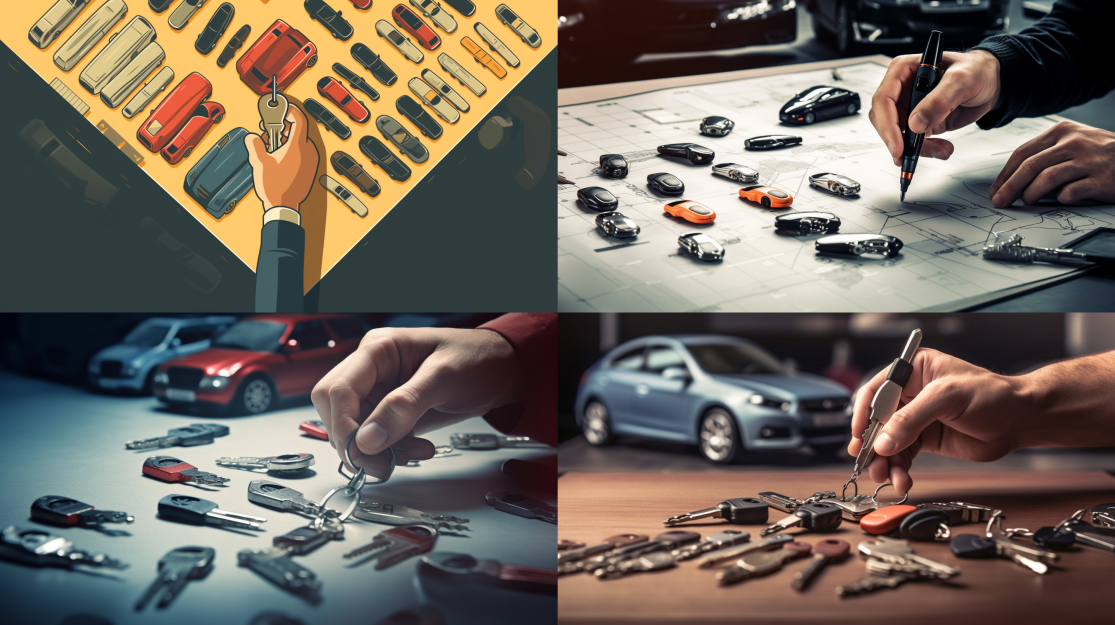 Time is critical when you're facing a lock-related emergency. That's why emergency locksmith Manchester support is available 24/7 to provide fast assistance for urgent lock and security issues.
With a commitment to customer satisfaction and prompt service, these professionals are ready to provide their professional service when you need them most.
Fast Response Times
In an emergency situation, every minute counts. This is why quick response times are vital for locksmith services in Manchester. Local locksmiths, such as Lockforce Locksmiths Manchester, guarantee a response time of 30 minutes or less upon receiving your call. This swift and efficient service ensures that your lock-related emergencies are resolved as quickly as possible, minimizing disruptions and getting you back on track.
Fast response times are particularly important in emergency lockout situations. Whether you're locked out of your home, office, or car, a quick response from a professional locksmith can make all the difference. By prioritizing rapid service, Manchester locksmiths ensure that you're not left waiting in a vulnerable or inconvenient situation.
The benefits of fast response times extend beyond emergency lockouts. If you've experienced a break-in or have concerns about the security of your property, a prompt response from a skilled locksmith can provide peace of mind and help you secure your home or business quickly. In these situations, time is of the essence, and Manchester locksmiths are committed to providing rapid and reliable service.
Damage-Free Entry Techniques
Dealing with property damage during a lock-related emergency is an added stress no one wants. That's why professional locksmiths in Manchester employ damage-free entry techniques to ensure a safe and non-destructive approach to resolving lockouts and other emergencies. By using specialized tools and methods, these locksmiths can gain access to locked doors without causing damage to the door or lock itself.
Damage-free entry techniques are particularly important when dealing with vehicle lockouts. Cars can be expensive to repair, so it's essential to find a locksmith who can unlock your car without causing any damage. Manchester locksmiths are continually developing and improving their non-destructive entry techniques for vehicles, ensuring the highest level of professionalism and customer satisfaction.
Not only do damage-free entry techniques protect your property, but they also save you time and money in the long run. By avoiding costly repairs and replacements, you can focus on resolving your lock-related emergency and getting back to your daily routine. This commitment to non-destructive methods is just one way that Manchester locksmiths prioritize customer satisfaction and quality service.
Lock Security and Theft Prevention in Manchester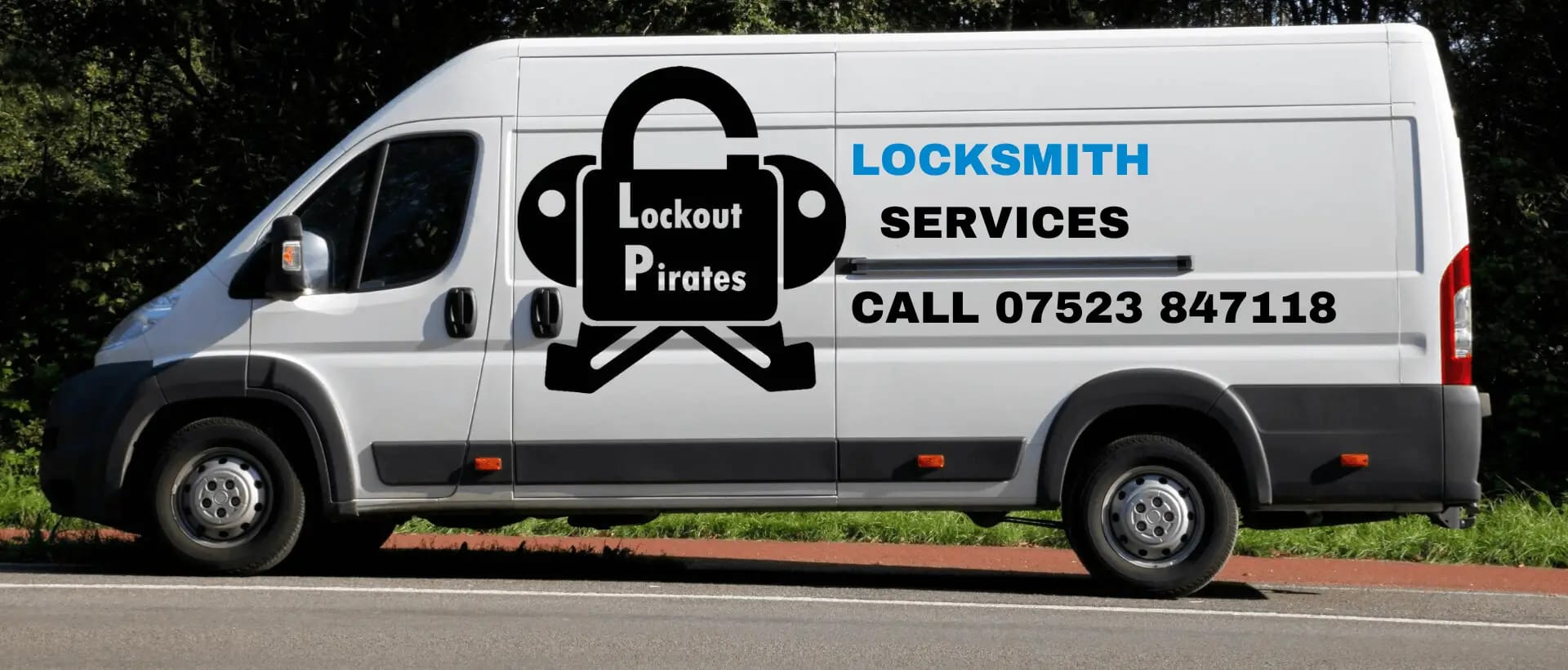 Ensuring the security of your locks is vital for the protection of your property from theft and unauthorized access. Lock security and theft prevention in Manchester focuses on identifying common lock vulnerabilities and offering tips for improving lock security.
By understanding the weaknesses of your current locks and taking steps to enhance their security, you can safeguard your property and enjoy peace of mind.
Common Lock Vulnerabilities
Certain types of locks are more susceptible to break-ins than others. For example:
Weak padlocks or bolts on sheds can be easily broken by thieves

Vulnerable standard locks can be snapped, giving criminals access to your property

Outdated security systems can leave your home or business at risk.
Another common lock vulnerability is the Bluetooth Low Energy (BLE) security flaw, which puts cars, mobile devices, and locking systems at risk. This vulnerability enables attackers to gain unauthorized access to these systems without requiring a physical key. By being aware of these common vulnerabilities, you can take steps to address them and improve the security of your locks.
Investing in high-quality locks that offer increased security and resistance to tampering is necessary to combat these vulnerabilities. This might include upgrading to anti-snap locks or installing high-security door handles to protect your property from potential intruders. By identifying and addressing common lock vulnerabilities, you can ensure the safety and security of your property.
Tips for Improving Lock Security
You can take several steps to enhance the security of your locks and deter unauthorized access to your property. First, consider upgrading to high-grade locks that offer key control, tamper-proofing, and pick-resistance. These features can make it much more difficult for burglars to gain entry to your property, helping to deter theft.
Also crucial is regular maintenance and inspection of all the locks to ensure their proper functioning and prevent tampering or break-ins. By checking your locks regularly, you can identify any potential vulnerabilities that could be exploited by criminals. If you notice any signs of wear and tear or damage, be sure to repair or replace the affected locks as soon as possible.
Finally, don't underestimate the importance of securing your windows as well as your doors. Windows can provide an easy point of entry for burglars, especially if they're left open or unlocked. Be sure to install window locks and consider using window restrictors to provide added security while still allowing for ventilation. By taking these steps, you can improve the security of your locks and protect your property from theft and unauthorized access.
UPVC Door and Window Repair Services in Manchester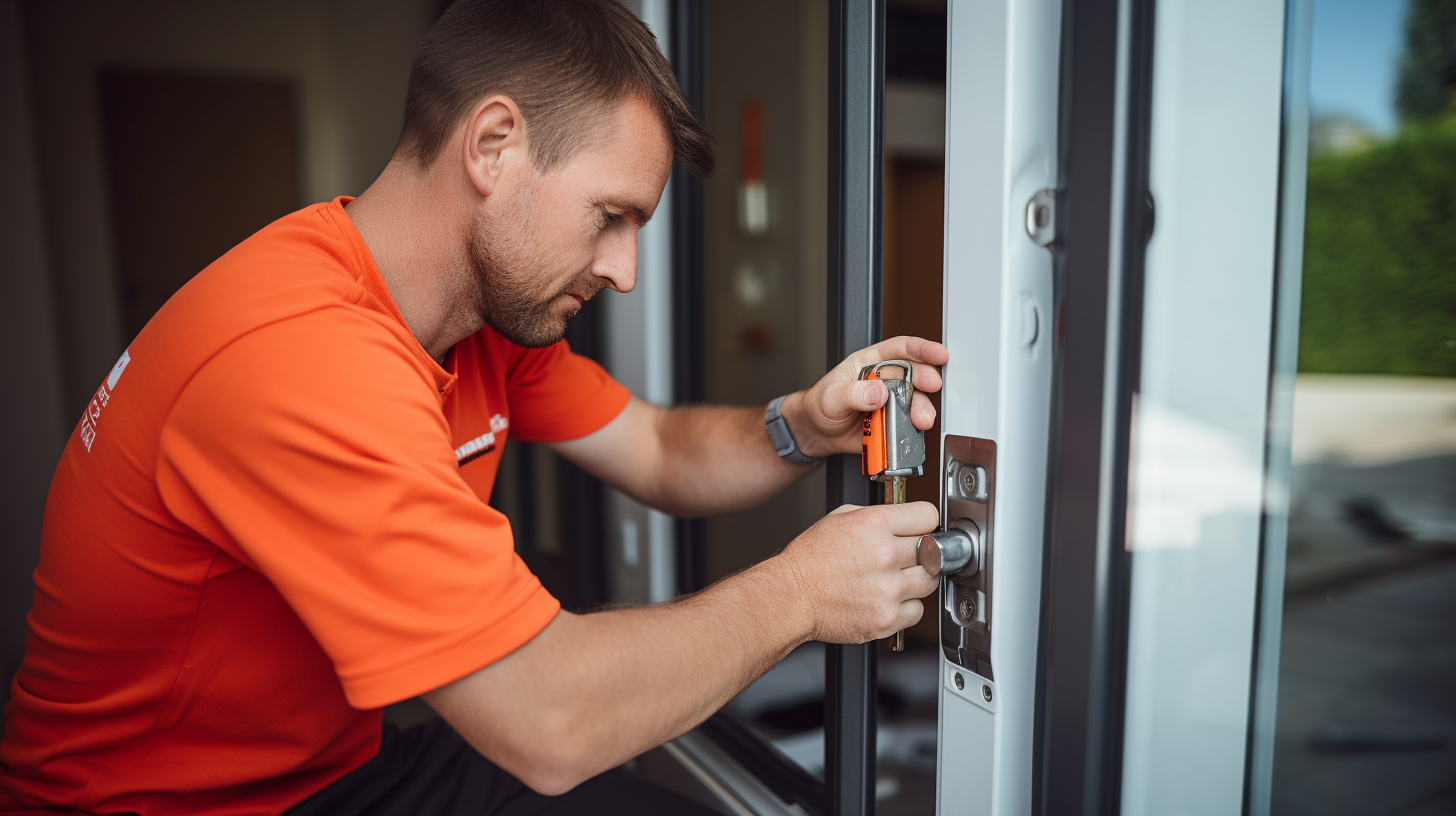 UPVC doors and windows are popular choices for their durability and energy efficiency. However, like any other type of door or window, they can develop issues over time.
UPVC door and window repair services in Manchester are available to address these common problems, ensuring smooth operation and improved security for your property.
Identifying UPVC Door and Window Issues
Timely repairs and maintenance require recognizing the signs of wear and tear in your UPVC doors and windows. Common issues include:
Swelling or shrinking during extreme weather conditions

Misaligned hinges causing sticking doors

Corrosion of double glazing sealing

Draught inducing leaks

Condensation between panes

Misaligning locks
By being aware of these potential problems, you can take action to address them before they worsen or lead to more significant issues. Regular inspection of your UPVC doors and windows can help you spot these signs early, allowing you to schedule repairs or maintenance as needed. This proactive approach can help to prolong the life of your doors and windows and ensure that they continue to provide the security and energy efficiency you expect.
Benefits of UPVC Door and Window Repairs
Repairing your UPVC doors and windows offers several benefits.
Enhances the security of your property by ensuring that your doors and windows are functioning correctly and securely

Helps to deter potential intruders

Gives you peace of mind knowing that your property is well-protected
Second, UPVC door and window repairs can improve energy efficiency by providing better insulation against temperature fluctuations and reducing air leakage. This can help to lower your energy bills and make your home more environmentally friendly. It's also worth noting that repairing your doors and windows can be more cost-effective than replacing them entirely, saving you money in the long run.
Lastly, UPVC door and window repairs can improve the aesthetic appeal of your property. Over time, wear and tear can cause your doors and windows to look tired and worn. By addressing these issues, you can refresh the appearance of your property and maintain its overall value.
Choosing a Reputable Locksmith in Manchester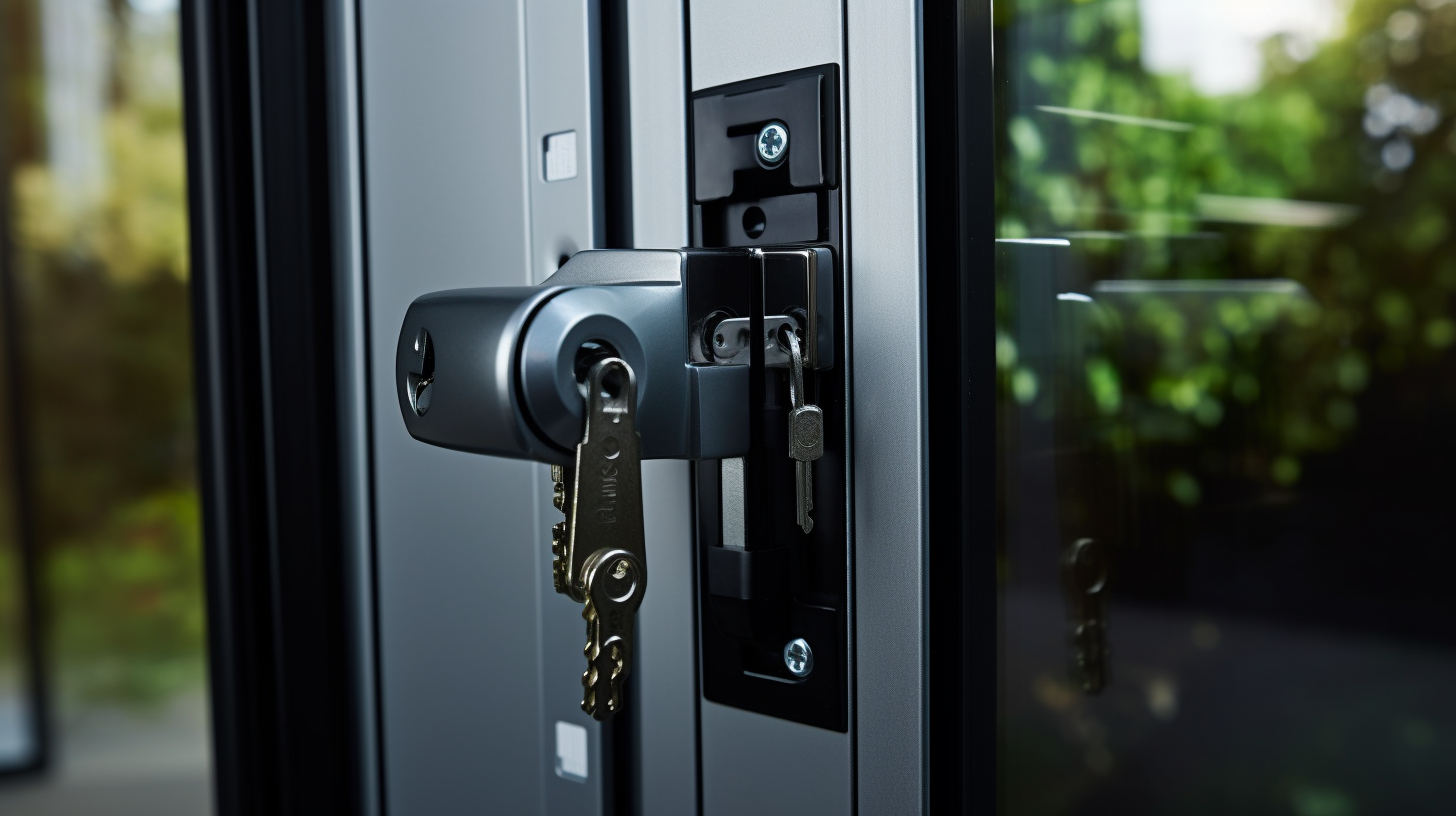 For the security and safety of your property, selecting a reputable and reliable locksmith service in Manchester is necessary. With so many options available, it can be challenging to know which locksmith is the right choice for you.
This section offers guidance on choosing a trustworthy locksmith, focusing on local providers, payment options, and pricing transparency.
Local vs National Locksmith Services
One factor to consider when choosing a locksmith in Manchester is whether to opt for a local or national service. Local locksmiths often have several advantages over their national counterparts. For instance, they tend to provide faster response times, as they are based in the local area and can quickly reach your location in case of emergencies.
Local locksmith services in Manchester typically offer a more personalized and customer-centric experience. They interact directly with you, allowing for improved communication and understanding of your individual needs and requirements. Additionally, local locksmiths often have a better understanding of the region and its specific security needs, allowing them to provide tailored solutions accordingly.
In many cases, local locksmith services in Manchester also offer competitive pricing compared to national locksmiths. They may have lower overhead costs and can provide more affordable services without sacrificing quality. By choosing a local locksmith, you can benefit from personalized service, faster response times, and competitive pricing.
Payment Options and Pricing Transparency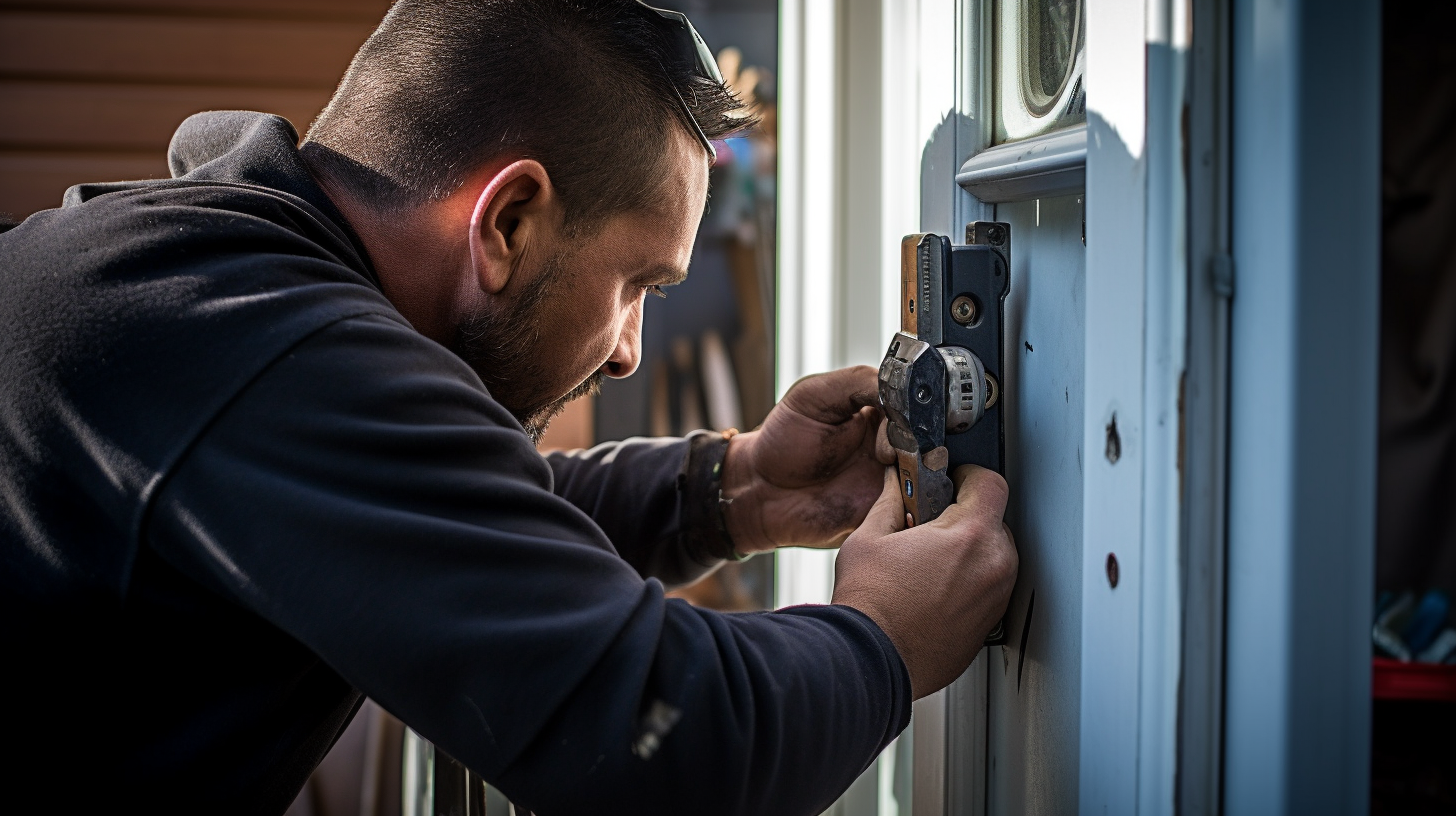 Payment options and pricing transparency are another critical factor to consider when choosing a locksmith in Manchester. A reputable locksmith should be upfront about their pricing and provide clear estimates for their services. This helps you avoid any unexpected costs or additional fees.
When it comes to payment options, a reliable locksmith should offer a variety of methods, such as cash, credit card, or electronic payments, to accommodate your preferences. This flexibility can make the payment process more convenient and stress-free.
In summary, considering factors such as local vs national services, payment options, and pricing transparency is essential when choosing a locksmith in Manchester. By taking the time to research and select a reputable provider, you can ensure the quality of service and protect your property effectively.
Summary
In conclusion, finding the right locksmith in Manchester is crucial for ensuring the security and safety of your property. By considering factors such as the range of services offered, response times, damage-free entry techniques, lock security, and UPVC door and window repairs, you can make an informed decision and choose the best locksmith for your needs. Remember to prioritize local providers, payment options, and pricing transparency to ensure a smooth and stress-free experience. With the right locksmith by your side, you can enjoy peace of mind knowing that your property is well-protected and secure.
Frequently Asked Questions
How much is a locksmith in Manchester?
The estimated cost of locksmith work in Manchester ranges from £75 to £175, depending on the type of lock.
How much do locksmiths charge UK?
The cost of a locksmith in the UK typically ranges from £43 to £78 per hour, with out of hours charges potentially higher at £80-£200 per hour.
An additional call out fee could be applied.
Can a locksmith get in without a key?
Yes, a locksmith can open your door without a key, as they can pick the lock open securely without damaging it.
This could be helpful if you are locked out with no key or have lost it.
What types of locksmith services are available in Manchester?
Manchester locksmiths provide a variety of services including residential, commercial, automotive, and emergency assistance to meet any of your needs.
How quickly can I expect a locksmith to respond in an emergency situation?
You can expect a locksmith to respond quickly in an emergency situation – most local Manchester locksmiths guarantee a response time of 30 minutes or less.
This means that you can get help quickly if you are locked out of your home or car, or if you need to change the locks on your property.